Make Sure You & Your Buddy Are Noticed By Incoming Drivers!
Are you tired of fine-tuning your route and avoiding fulfilling walks at night just because you know how hard it is for incoming drivers to spot you and your pup?
Night walks always carry a certain amount of risk; Especially on dark roads and poorly lit areas.
It's a known fact that approximately 1.3 million people die each year as a result of road traffic crashes where at least one person was in a vehicle.
That's why Signsee was designed to ensure that incoming drivers see you and your dog from at least half a mile, and have the time to react accordingly.
Secure Your Pet From Getting Lost In The Dark
How many times did this happen to you already:
You're walking your dog, they're peaceful, everything is fine & dandy, and then all of a sudden they see a cat or something and start pulling the leash erratically?
Signsee gives you an advantage in these unexpected situations because in case your pup manages to rip the leash out of your hand and runs off, you'll at least be able to see where they went.
Think ahead with Signsee, and mitigate the risk of losing your pup if they make an unexpected move and run off with the leash around their neck.
Take Replenishing Walks Day Or Night
As a dog owner, you know walks aren't all about them; They're about you, too. You're in this together.
And whether it's a warm summer night, or a magical midnight walk in the first snow in winter, with Signsee you won't have to think about it twice or even skip the walk.
Because with Signsee, it's easy to make your presence known while it's dark outside and walk with peace of mind instead of worrying about what might happen.
So if you want to walk with your buddy stress-free at night, click Buy Now to get the Signsee while supplies last!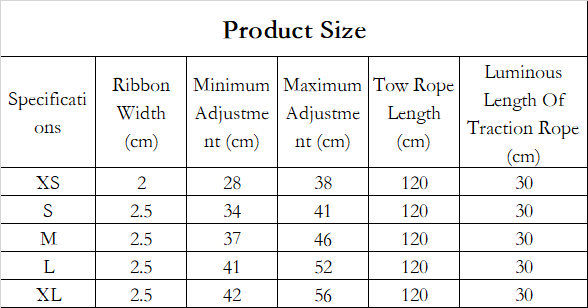 Replaceable light-emitting drive: driven by two-button batteries, normal use is about 60 hours, and it can be used for two to three months.
Products include:
Light-emitting collar*1
Luminous traction rope*1