🚗THE PERFECT COMPANION FOR YOUR RIDE
🍔Eating lunch in the car? We've all been there.
Stop juggling your burger and fries on your lap and enjoy your meal comfortably with our car table when safely parked in your vehicle.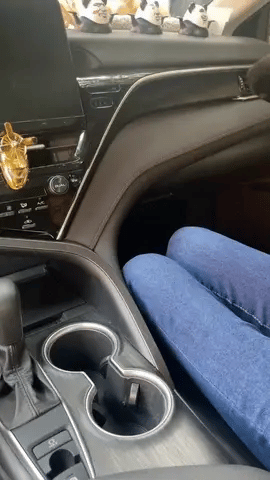 🚗【UNIVERSAL COMPATIBILITY & SECURE MOUNT】:You can notes that rotate clockwise to expand, rotate counterclockwise to closure. Adjustable base expands from 2.56'' to 3.7'', fill the console cup holder to fit different vehicles, such as boats, Lorry/SUV/truck/Coffee cup, RV's and golf-carts. Easy and rigid installation. There is rubber to keep your hydro-flask from moving around or making any noise at all.
🚗【UNLIMITED ADJUSTABILITY】: Designed with 360° swivel capabilities and a jointed arm, our cup holder table will allow you to adjust the table to the perfect position or, swivel the tray back and forth between you and the passenger.
🚗【MULTIFUNCTIONAL SPACE SAVER】: With a 9″ surface for your favorite snacks , Burger, fries,fast food box, keys and other loose items and a padded smartphone stand (great for enjoying a show when eating), our car cup holder tray will add practicality to your vehicle while keeping it organized.
🚗【Wonderful Non Slip Mat】: Car cup holder organizer with a Non-Adhesive mat , the black mat is oilproof, waterproof, anti-slip and easy to remove or clean. What's more, with this car sauce tray you can enjoy sauce in the car.Enjoy a cup of coffee or drink, lunch or snack while resting on the road. You don't have to worry about soiling the tray, the black non-slip mat can be cleaned.

🚗【Car Tray Table Sturdy & Safety 】 : The support rod can support a maximum weight of 1kg (2lb) after being thickened and improved, We use the card slot interface to directly insert the tray, which makes the tray support more stable.
🚗【OUR GUARANTEE】: At Rerimall, our goal is to help you improve your daily routines with easy to use & convenient products. We are positive you will be 100% satisfied with our car table tray.
CUSTOMER REVIEW
D***i
at first I thought this was going to be really uncool in my car but not only did it make the car have a little class inside it also holds your phone and your food and I'm actually happy it looks great and I drive an Escalade I just can't have anything in my truck but it worked out 
A***b
The table is simply excellent!!!! The car is very convenient with it, especially when you spend time in the car. Thank you.
F***b
Cool thing, keeps in place for a glass, very convenient 
L***o
Product excellent