This screen top shelf can help you to clean your table, tea table, or computer table.
Bring you and your family a comfortable living environment!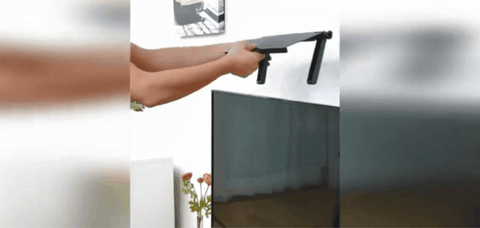 MAIN FEATURES
DURABLE MATERIAL: The screen top shelf is made of ABS resin. Sturdy & Durable.
Suitable for most flat-screen sizes.
UNIQUE & PRACTICAL: Our screen top storage bracket has an adjustable elastic design to satisfy your various needs, and the non-slip surface will keep your accessories from sliding.
EASY TO INSTALL: Do not require any other installation tools.
You can directly adjust the rotation button to fix it or rotate the feet in the opposite direction until the screws are stable.

WIDELY APPLICATION: With your top shelf, you can place it on a computer or TV in the family and office, which can help you put some remote control, routers, calculator, and some small home decorations.

SPECIFICATIONS
Size: S (16.2×11.2cm/6.3×4.4″) 
L (16x33cm/6.2×12.9″)