It makes it easier to make hockey pucks, one pull makes the puck come off instantly.
It is well sealed and will not string odor!
ICE MAKER MAKER FUNCTIONS:
2 in 1 Ice cube tray, our ice cube kettle is an ice maker mold, that you can freeze your drinks.
It is also a water bottle to carry out for a cool drink.
PORTABLE & COLLAPSIBLE:
Can be used in multiple scenarios, such as putting it in the car refrigerator and outdoor parties, so that you can have ice cubes at any time.
EASY TO USE:
The ice cube mold is an innovative design and you can get 17 ice balls at a time.
Just fill it with the water or drinks you want, put it into a refrigerator until freezing, then screw off the lid, pull the straps to let the ice balls fall, and finally, you can get fresh ice balls.
STRONGER AND SAFETY:
Adopt environmentally friendly PC materials.
They can withstand long-term low-temperature storage without breaking.
Take the ice cube mold apart for easy cleaning.
The ice balls will not absorb the odor in the refrigerator during the cooling process.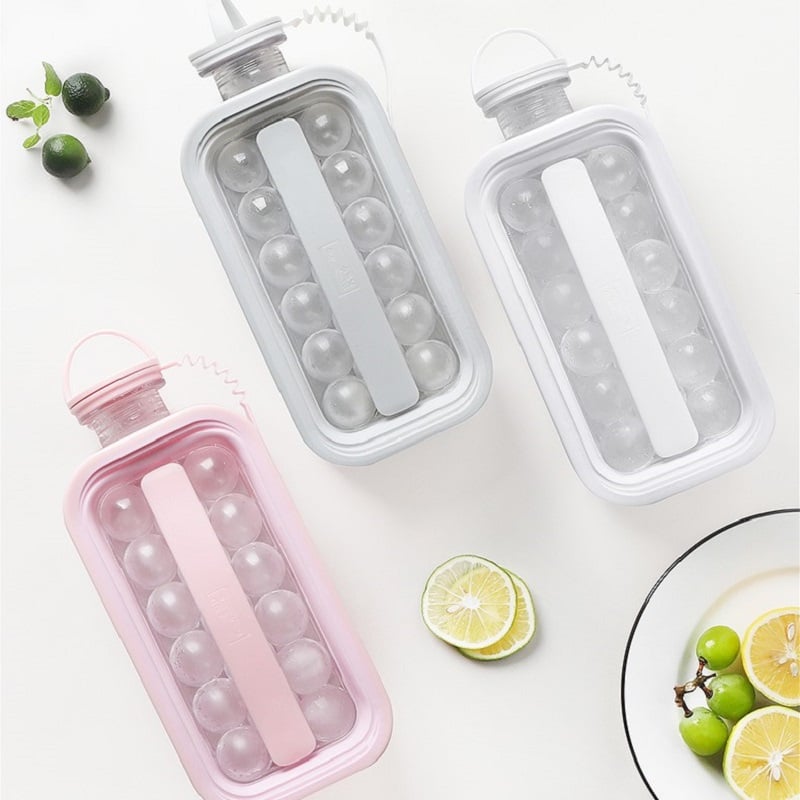 Product Specifications 
Total weight: 489g

Size: 27.3*11.4*5.8cm
Material: TRITAN
Package Contents: 1PC*Portable Ice Ball Mold